Emergency ambulance service in Saigon
August 1, 2017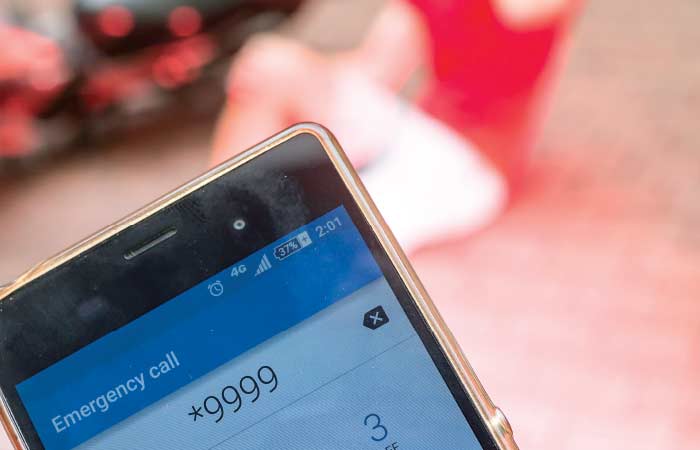 ASIALIFE – A new emergency ambulance service is coming to Saigon. By Monica Majors. Photo by Vinh Dao.
One day I thought I was being smart by transiting on two feet instead of two wheels—until I was hit by four. The gory details of the incident aren't important here, but as traffic continued unimpeded around the culprit taxi and the red streak on the pavement, I was in need of medical assistance. Not only did I (apparently) not know how to successfully circumnavigate Saigon's traffic, but I also did not know how or whom to call in an emergency (the official Vietnamese line for medical assistance is 115, by the way). The ever-so-ambitious taxi driver picked me up without consultation or approval and plopped me on the back seat of his vehicle. We then turned against traffic and zoomed toward an unknown destination—what I could only assume was either a dark hem or a hospital (50/50 at the time in my clouded mind). "Benh vien—hospital," I uttered, interrupting his agitated, but concerned, tirade. "Roi, roi, roi," he finally answered and delivered me quickly and carefully to the International SOS Hospital in District 3. Fortunately, the rest of the story, and my recovery, end happily.
Based on my own experience, I spoke with locals, expatriates and tourists in HCMC regarding what to do in a medical emergency. Few were aware that there is a public system; less would call for assistance and even fewer expect an ambulance to arrive in time to be effective. Nearly all agreed that a taxi is the best option; some expats saying they'd rather call their embassy than the helpline. When asked if anyone has seen an ambulance in the city, most responded in question, "You mean that cryptic-looking van that sits in traffic like everyone else?" So where are we to turn?
My question led me to Family Medical Practice Vietnam (FMP), where there is a long and arduous process well underway to offer Vietnam's first privatised emergency response system, *9999. Starting four years ago and overseen by FMP's CEO Dr Rafi Kot, the aim is not only to bring medical care in Vietnam up to date with the major world players, but also to "rattle and shake the establishment". Dr Kot has done that through a carefully orchestrated tier of checks and balances, starting first with the procurement of ProQA, the leading automated emergency dispatch system operating in 52 countries around the world (Vietnam is now the 53rd).
Saving Lives
Where used, ProQA decreases mortality by up to 33 percent. Fully automated, operators follow on-screen prompts based on the information received from the caller. It effectively navigates operators through handling all medical queries, from itchy eyes and a running nose, to blood and ooze and heart palpitations, or the unimaginable. At the preordained point of crisis, an ambulance is automatically dispatched while the operator continues to coach the caller through any helpful first-aid, or to collect more information. Two red flags here: qualified operators and effective ambulances. But Dr Kot's taken care of that…
"I scouted and screened 1,100 candidates," he says, "fluent in both Vietnamese and English." Screening further for empathy and improvisation, Dr Kot narrowed it down to the team of nine that is now ready to take our calls. But before the operators were put in charge of fielding any sort of medical call, they went through a stringent programme designed to further humanize their approach. "When patients call, they will likely feel uneasy, perhaps even panicked. They need to understand the instructions and feel that the operator on the end of the phone truly understands the urgency and details of the situation. The computer system is spectacular, but we need that human connection. Communication is key," Dr Kot continues. A drama teacher offered the team lessons on active listening and imparting confidence, while assistance from the British Council trained enunciation. The last step for the team was mastering ProQA, a surprisingly easy-to-follow software for how quintessential it is in saving lives. In addition, the system was translated and enriched into Vietnamese so as to ensure full usability.
According to FMP's Head of Emergency Medicine, Dr Sergio Arellano, most accidents seen in the city are from motorbikes (as one would expect), and they normally happen at low speeds. Outside of such accidents there is a vast difference in the type of calls placed by locals and foreigners (including expats and tourists). Local Vietnamese will seek medical assistance for any and all related upsets to their children, but will often forego even the most telling of symptoms in adults. Expats and tourists flock to, or call, emergency rooms often for stomach-related issues, heart palpitations and shortness of breath.
Dr Arellano was brought in to lead the emergency management system, including six state-of-the-art ambulances soon to be seen meticulously navigating Districts 1, 2, Binh Thanh and parts of 3. Imported from Canada and each identical in facade, power and equipment, they are the real deal, imposing in authority and capable of barrelling through median barriers and opposing traffic like a neon-orange lightsaber. All the necessary bells and whistles needed for triage, life support and transfer—including to as far away as Nha Trang—are set in these mobile ICU's. The one thing they're missing: paramedics.
Expertise
The terminology for paramedics does not yet exist in Vietnam and as such is not a recognised occupation for work permit purposes. Instead, a physician and nurse make up the crew in each of the ambulances. Some of the nurses are actually certified paramedics from overseas, but are hired under the slightly less authoritative title. The rest are fully qualified and licensed nurses from around the world and Vietnam.
With a fully-qualified call center, unparalleled EMS software, modern ambulances and well-trained professionals, the *9999 system will be a welcome addition to a city growing as rapidly as Saigon. It's clever too. Based on the artificial intelligence within ProQA, each of the six ambulances will be positioned throughout the three districts based on the probability that an incident will happen in the immediate vicinity. This calculation dramatically shortens the response time, which in the United States is benchmarked at eight minutes from the time a call is received to aid arriving on the scene. Eight minutes. Last I checked it took me that long to clear a single block on Pasteur. "There are two hurdles we still need to clear: the dogma that we are better off calling a taxi instead of a helpline, and the unrelenting traffic," Dr Kot says with the confidence that his team can do so.
FMP's emergency *9999 line will soon be available to everybody in the city. For an annual fee, you receive the full coverage and guaranteed priority assistance from professionals. In an emergency, you'll be taken to the nearest hospital or clinic as deemed appropriate by the attending physician. Nothing in the system is haphazard; even the number was chosen after focus groups determined which number was easiest to remember. While the programme is privatized, the People's Committee of Ho Chi Minh City has already come through to examine the capabilities of the team and software, expressing a keen interest to advance the as-yet untrusted public system. And for so many proven reasons, we'll all be better off staying out of taxis with our bloodied elbows.